If you want to get in touch with AfterShock players and/or developers, you can join our official IRC-channel #aftershock in Quakenet. Joining our IRC-channel can help you to get configuration tips, organize matches using the Pickupsystem, talk about new features and stuff to be added in the future and much more.
To join the IRC-channel you can either use the webchat or install an irc-client (see Comparison_of_Internet_Relay_Chat_clients)
Install XChat
[
]
XChat is a cross-platform IRC chat programm that allows multiple channels, private chat and much more. To install xchat on Fedora GNU/Linux or Windows download the binary here .
Users of Debian based linux-distributions(Ubuntu,Mint,...) can use ​
sudo apt-get install xchat

or the prefered packetanager to install XChat.
Mac users should try XChat-azure .
On Windows you may use HexChat .
Configure XChat and join the #aftershock channel
[
]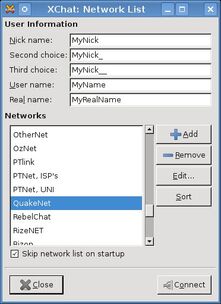 To join the official AfterShock channel you need to start your IRC-client, in this example XChat. At first startup of XChat a window named Network List should open. If this is not the case, you can open the network list clicking "XChat->network list".
In network list you can specify to which IRC-network you want to connect, in our case you want to connect to the QuakeNet. First you should enter a nickname, it is always a good idea to take the name of your AfterShock-account if you are registered on the official AfterShock-page. In case your desired nickname is already in use, you should enter a second and third choice. If you don't want XChat to open the network list on every startup and just connect to our channel, you can check the "Skip network list on startup" box. To connect to the AfterShock-channel search for QuakeNet in the list named Networks and click "Edit...".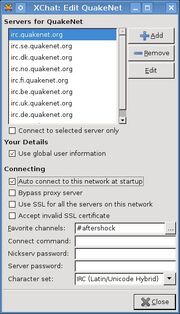 In the "Edit QuakeNet"-dialog you should check the "Auto connect to this network at startup" box if you want to join the QuakeNet on every XChat startup and add "#aftershock" to the "Favorite channels". Close the dialog and click Connect in the "Network List". Welcome to the official AfterShock channel in QuakeNet.